Moldova's Unexpected Opening to China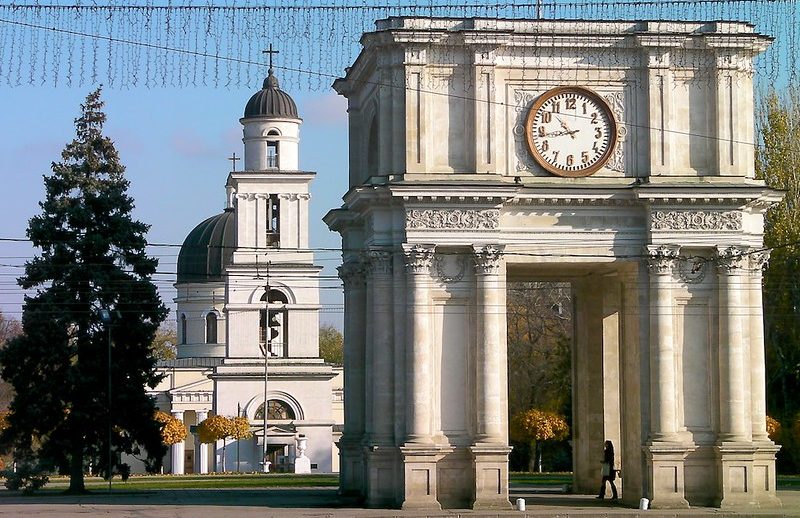 Since declaring independence from the Soviet Union, Moldova has been in a constant political tug-of-war between Russia and the West. Strong divisions amongst the populace exist between those who feel closer to Russia and those who look westwards to Europe, especially Romania with which Moldova shares its language. Moldova's location, sandwiched between Romania and Ukraine, makes it of strategic interest to both Russia and the EU, despite its diminutive size.
Since the pro-Russian President Igor Dodon came to power in late 2016, Moldova has been even warier of irritating Russia by seeking closer ties with the EU. In light of this constant rivalry stranding Moldova between great powers, a new partnership with China could be seen as a godsend for Chisinau. Indeed, Moldova has recently played up the potential of ties with Beijing.
Moldova's New Opening to China
For Moldova, China appears to be a neutral actor, free from the historical baggage that Russia brings along with it. Moreover, Beijing presents itself foremost as a trade partner and does not demand any democratic or institutional requirements, as is the case with the EU.
Up until recently, Moldova seemed to have only little to offer for China. Despite recent progress, Moldova remains the poorest country in Europe by GDP and has the lowest Human Development Index on the continent. Moldova's economy heavily relies on its agriculture sector, featuring fruit, vegetables, and wine. Emigration, especially among young people, is unusually high as roughly one million Moldovans work abroad. In general, Moldova's economy remains vulnerable to a large range of threats including corruption, political uncertainty, weak administrative capacity, vested bureaucratic interests, energy import dependence, Russian political and economic pressure, and heavy dependence on agricultural exports, as well as unresolved separatism in Moldova's Transnistria region.
Despite Moldova's predicament, China has been paying increasing attention to the country. Since the establishment of official diplomatic relations in 1992, political relations between Moldova and China developed smoothly. This trend went even further after 2001 when the Communist Party of Moldova came into power. At this time, China strived for stronger relations with Eastern Europe and the South Caucasus mainly by offering a series of loans to build or modernize local infrastructure. Simultaneously, both countries developed a trade relationship. With regard to the structure of trading goods, wine and furniture are almost the only Moldovan products imported by China. In contrast, China's exports to Moldova cover a wide range of goods such as electric machinery, plastics, rubber and chemical products. Chisinau also managed to obtain several loans from China. The first major loan was made in July 2010 when Beijing signed a Memorandum of Understanding (MoU) to lend Moldova $1 billion which amounted to a tenth of the country's GDP.
Growing Chinese Footprint
The rapid growth of the Chinese presence in Moldova occurred in the wake of the launch of the Belt and Road Initiative in 2013. Indeed, under this project, Beijing has invested heavily across the Black Sea region, including Moldova. Chinese State-owned enterprises (SOE) have poured billions of dollars into the Continent to acquire strategic assets in Western Europe, develop energy and port infrastructure in Southern Europe and increase transport connectivity to Eastern Europe.
In this strategy, Eastern European countries including Moldova have emerged as an overland corridor to access the European market. Indeed, Moldova appears at once as a landlocked country stuck between Romania and Ukraine, and, more positively, as a path of least resistance to the European markets for China. To this end, China has expanded its economic presence in Moldova through three major projects.
In 2015, Chinese SOE China Shipping Container Lines launched container shipping services in the Moldovan port of Giurgiulesti – the country's only port accessible to seagoing vessels- through the Danube river after signing a terminal service agreement with the domestic operator. This investment provided the landlocked country an important export lifeline for its products to global markets, especially since its economy was suffering from the Russian embargo on imports of Moldovan wine. According to companies involved, the Giurgiulesti International Free Port was to develop into a logistics hub and business park for Chinese companies to access the EU and CIS markets.
Secondly, in 2017, Moldova entered into negotiations in order to set up a Free Trade Agreement (FTA) with Beijing which would remove import barriers on each other's products and bolster commerce. According to the forecast issued by the authorities, Moldova's export to China could increase by 39.85% and its GDP could increase by 0.42% as a result of the FTA. This project could be seen as part of China's regional free trade strategy. Indeed, with a bilateral FTA, China could support increasing EU-Moldovan economic interdependence by producing goods in Moldova destined for the European Market. It could also be seen as a further move in Beijing's global strategy wherein one agreement will lead to a domino effect in Eurasia. By now, Switzerland is the only European country that has negotiated an FTA with China. If Beijing manages to reach a deal with Moldova it could set a precedent in a region of particular economic and political interest for China. Indeed, as pointed out by Jun Zhao and Timothy Webster China can build an image of a regional leader image via its FTS strategy. Engaging Moldova through an FTA is therefore an approach that could bring about closer economic, political, and security relations while at the same time demonstrating China's responsible leadership in the region through the awarding of favorable trade concessions.
Finally, the cooperation between China and Moldova made a major step forward in April 2019 when Moldova signed an infrastructure agreement with two Chinese contractors to build almost 300 kilometers of roads at an estimated cost of $400 million. One road will encircle the capital Chisinau and the other will connect to Ukraine in the north. Two Chinese companies – the China Highway Group and the China Railway Group Limited – will undertake the project, marking the first Chinese-led infrastructure project in Moldova. According to the Moldovan government, the projects will significantly improve traffic and contribute to overall economic growth. Construction is expected to be completed by 2022.
This project allowed Moldova to clearly express its intention to participate in Belt and Road Initiative. Indeed, while the two countries have not actually signed an MoU, a Chinese report released by the China International Trade Institute in August 2015, identified Moldova as a participating country to the initiative. Moreover, the Moldovan authorities have clearly stated their country's ambition to join the Chinese project.
Since this deal, China has increasingly signaled interest in economic engagement with the country. As an example, 12 Chinese major enterprises participated in the Chisinau Business Forum in April 2019, highlighting their willingness to enhance investment in the country. Furthermore, in the context of the coronavirus crisis, Chinese authorities announced that the debts of 77 countries, including Moldova had been temporarily suspended. This move suggests China's interest in the country and its willingness to sustain its economic cooperation with Moldova as only five countries in Europe and Central Asia will enjoy this debt release. However, it should be highlighted that this move toward Moldova is mostly symbolic as its biggest creditor states are neighboring Romania, Turkey and Russia.
Moldovan government also appreciated China's support and assistance on COVID-19. Indeed, the Chinese government provided Moldova with tests and PPE to fight the pandemic. Recently, President Dodon reiterated his intention to proceed with a state visit to China that was initially planned for this March but was delayed because of the coronavirus crisis. Statements from the Moldovan authorities tend at least to demonstrate that Chisinau attaches great importance to developing relations with China, which was called "one of Moldova's most important partners" by Dodon.
Issues Abound
While this growing relationship with China may turn out to be beneficial for Moldova, it is not without risks. China's growing presence in Moldova as well as in other Eastern European countries may very well contribute to increasing debt burden and a deepening of the existing trade deficits.
Regarding the recent infrastructure project signed by Moldova with its Chinese counterpart, it is worth noting that 85% will be financed by the Chinese companies while 15% will be a contribution from the Moldovan government, mostly financed by Chinese loans. As such, criticism has arisen over the future of the nation as it is saddled with debt toward China. However, when interviewed on CNBC, Vitalie Iurcus, State Secretary at the Ministry of Economy, stated that Moldova conducted 'deep feasibility studies' to ensure that these projects are 'feasible' and 'payable'.
For now, Moldovan authorities are well aware that a membership to the EU is more than unlikely. Regarding Russia, even the pro-Russian current President could not disregard the fact that part of the national territory is still controlled by the Russian army. This lurch the nation is left in may explain why Moldova has left more and more space to develop a new partnership with its Chinese partner.
Yet, this cooperation does not guarantee escape from historic struggles. As we have seen, the partnership with China is still very much in Beijing's favor. Questions as to the ability of Moldova to actively participate in BRI are warranted and must be asked. Otherwise, given China's demographic, political and economic weight, Moldova may find itself simply trading one historical struggle for a new one.
Written by
Eugénie Davi is a student of International Relations at ILERI, Paris and an intern at the French Observatory for the New Silk Road.