Montenegro might just have gotten a unique opportunity to reset its future investment relations with China, given the unexpected results of the recently held parliamentary elections. It is very likely that the new administration will bring an end to credit loan-based projects and steer the Montenegro – China cooperation in the direction of modern types of investments. The age of credit indebtedness is over – the age of mergers and acquisitions, and joint ventures begins. Both sides will have to avoid past hurdles such as unreasonable indebtedness, corrosive capital and disregard for European standards.
On Monday, September 1, 2020, people of Montenegro, a charming Western Balkan country of about 620,000 inhabitants, nestled on the Adriatic sea coast, woke up to surprising news – following recently held parliamentary elections, Democratic Party of Socialists (DPS) lost its parliamentary majority after 30 years in power. Surprise indeed – given that DPS and its leader, current President Mr. Milo Djukanovic had been in power since 1990. Despite the defeat, Mr. Djukanovic remains Montenegro President until 2023, but it is likely that for the first time his party will be in the opposition.
Under DPS rule, Montenegro successfully avoided the spotlight during the wars accompanying the breakup of former Yugoslavia, remaining in a union with Serbia only to declare its independence in 2006. Since then, it has become an EU candidate country (in 2010), joined NATO (in 2017) and is performing best in EU accession process negotiations.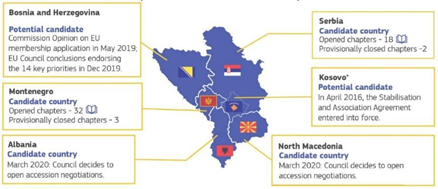 However, one-party rule for such a long period has its downsides. Montenegro has often been criticized for lack of the rule of law and political transparency, for example. The latter is especially related to some of the past and ongoing capital infrastructure projects developed and financed by China in Montenegro.
Past Blunders of Chinese Investments
In Montenegro, China has so far been engaged mainly in capital infrastructure projects relying on credit loans provided by the Chinese EXIM Bank or China Development Bank (CDB). According to China Global Investment Tracker, €2.24 billion went into transport projects and €200 million into energy projects. Despite overwhelmingly positive appraisal of China and its investments and joint projects continuously communicated by Montenegrin authorities, Chinese investments in Montenegro gained quite negative publicity lately. The three most famous cases are the Mozura wind farm, a coal-fired thermal power plant TPP Pljevlja reconstruction and the Bar – Boljare highway.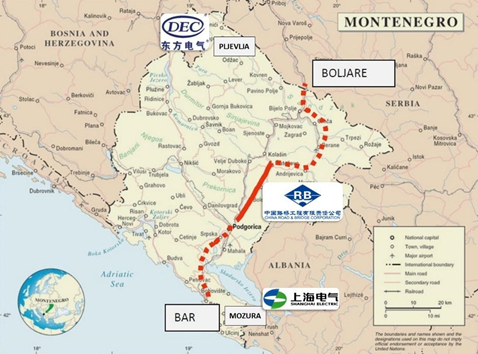 In November 2019, the 46 MW Mozura wind farm officially started its operation. The project was developed in cooperation with Enemalta from Malta, with Shanghai Electric Power Company as the main contractor. However, a much gloomier dimension of this project relates to the international investigation of money laundering which included off-shore companies. The investigation was led by a Maltese journalist Daphne Caruana Galizia who was assassinated by a planted car bomb in 2017. This led to massive protests and the stepping down of the then-Prime Minister of Malta Joseph Muscat. The investigation on money laundering as well as the assassination is still ongoing.
In 2014 an open call to construct a new coal-fired thermal power plant (TPP Pljevlja 2) to replace the existing one was issued. Accepted offers came from Škoda Praha, a consortium of Design Institute and China Machinery Engineering Corporation – CMEC, and Powerchina Hubei Electric Power Survey. TPP Pljevlja 2 project was relinquished over time by the state due to the pressure of the environmentalists and negative sentiment related to the coal industry on the global level. Eventually, in June 2020 a contract to undergo an ecological reconstruction of existing TPP Pljevlja was signed with the consortium led by Dongfang Electric Corporation. The project value is €56 million and will be predominantly financed by Montenegro's national power corporation. Similar projects of curbing fossil fuel usage and its effects are implemented on a better level of technical quality and with better financial conditions via EU support funds, conditioned that they comply with international transparency regulations – of which Chinese companies are not huge fans of.
Last but not least, the construction of the Bar – Boljare highway is by far the most talked-about capital infrastructure project led by Chinese companies in Montenegro. Commenced in 2014, it includes the construction of a highway to connect the mountainous north with the Adriatic south. The estimated total project cost is around €1.7 billion for a total of 129 km. The main EPC contractor is China Roads and Bridges Corporation, a subsidiary of China Communications Construction Company. This project was criticized on accounts that it overburdens the national GDP and that it will irrevocably damage the natural habitat of the Tara river and the surrounding emerald-like natural reserve environment.
Projects like these wouldn't have attracted such negative publicity were they developed in a country that does not aspire to become a member of the EU. In the case of Montenegro however, Chinese investors need to learn to comply not only with design and engineering requirements and standards but also with the ones equally important to EU aspirants such as rule of law, transparency, human rights and environmental social governance principles. China has so far been able to learn from its own mistakes, but unfortunately, it has not learned from the mistakes of others. In the case of Montenegro, there were plenty of examples just over a decade ago.
Learning from the Experience of "Corrosive Capital"
Montenegro's experience with Russia can provide useful takeaways for how to deal with Chinese investments going forward. Upon declaring its independence in 2006, Montenegro opened its doors to the Russian capital. By 2018, Russia's €1.27 billion made up 13% of all FDI in Montenegro. Yet, this came at a price. Montenegro became an exemplar of how corrosive capital's first impression can be deceiving, and how hard it is to shake it off. Although this was a fresh capital injection, it entailed controversial acquisitions such as the purchase of the national aluminum plant which accounted for 50% of Montenegro's exports by a Russian oligarch.
While privatization via foreign investment such as this turned out to be a failure, as a result of middle-class Russians buying houses and flats on Montenegro seacoast, the tourism and real estate market soared, resulting in Montenegro's GDP almost doubling in the period from 2005 to 2008.
Despite the negative experience, the influx of fresh capital from Russia helped Montenegro overcome the financial crisis in 2007-2008 and laid the groundwork for a later rise in its GDP. Successfully probed, Montenegro's market later welcomed similar investments from the Middle East, United Arab Emirates and Qatar, resulting in high-value investments such as Porto Montenegro – high-end complex with a mega-yacht marina, 5-star hotel, luxury villas, helipad, and a museum, injecting an estimate of €450 million in direct investment, as well as Portonovi – a luxury hotel complex with 500 residences and villas, of estimated investment of € 600 million.
One can indeed argue that in a country with an average salary of €773 in 2019, high-end luxurious tourist resorts are not the most beneficial kind of investment, despite the importance of tourism for the overall economy. But that is the price one pays for being late with transition and staying outside the EU, hence falling below the global investment radar. In the case of Montenegro, the initial financial stimulus "spin-off" did come from the scrutinized corrosive capital, but Montenegro is doing its best to climb out of it – mainly through its EU integrations process performance. It has been doing a fairly good job so far, but there is always room for improvement.
Leveling the Playing Field
One of the leading slogans of the Montenegro COVID-19 awareness campaign was a quote from a 19th-century jurist Valtazar Bogišić: "Even that which is not forbidden can be unfair". This fairly describes the investment cooperation between Montenegro and China so far. China's development of infrastructure projects in Europe, compared to its experiences in Latin America and Africa, is similar to driving fast on a highway, and at one point exiting to continue on the intercity road. To avoid a crash, you need to adjust and slow down. In order to work with the EU, China needs to understand the uniqueness of the EU as a system.
Montenegro is first in line to become a new EU member. Its economy is firmly oriented to the EU as import and export numbers clearly show. When criticizing the rule of DPS in the past, opposition parties – soon to be ruling parties – often scrutinized how the government structured its cooperation with Chinese companies, using the same arguments as the international community. Now with tables turning, they get a chance to practice what they preached.
The new Montenegro government has the chance to learn from the previous experience: the one of corrosive capital with Russia (no shady privatizations and acquisitions) and China (no unrealistic credit loans for mega-projects). Smart investments in Montenegro can have a lasting mutual benefit for all sides involved. Montenegro can improve its infrastructure to comply with EU standards, and China can learn what it takes to ensure quality in product and services when exporting to Europe. In this case, Montenegro need not be modest. Good performance in EU integrations as compared to neighboring countries can bring more attention from high-quality Chinese investors focusing on lasting sustainability – think of joint ventures– rather than temporary profitability – think of directly negotiated credit loans. Proof of this can be found in the neighboring Slovenia whose most prominent national company for home appliances Gorenje was acquired by Hisense in 2018.
Leveling the playfield in such a way that size does not matter and quality prevails will be a sign that both sides learned from their past experience. Montenegro must learn from the mistakes of opening the doors to corrosive capital. Incorporating the EU's screening mechanism for FDI in national legislation will be of utmost importance for the new public administration. Crosschecking Montenegro's EU accession progress reports and upcoming milestones with the EU's FDI screening mechanism will create a better framework for where and under what conditions Chinese investments should be accepted.