The rising Chinese presence in Serbia, Beijing's key partner in the region, comes also with a growing number of Chinese nationals living, working in or visiting the country.
Over the past decade, the Chinese presence in Serbia has demonstrated a remarkable increase. This development is largely attributable to the surge in Chinese capital that has entered the country through loan agreements for the implementation of infrastructural projects, as well as brownfield and greenfield investments. As a result, China has emerged as a crucial partner for Serbia in its pursuit of economic development.
However, this burgeoning Chinese presence in the country is not limited to capital investment and corporate involvement. The number of Chinese nationals, both those residing temporarily and those establishing permanent residence in Serbia, has also grown markedly.
First Attempts to Attract Chinese to Serbia
The current situation has grown out of previous attempts to cultivate ties with China and draw Chinese nationals to Serbia. In the 1990s, following the Balkan Wars and the lifting of international sanctions on Yugoslavia, Mira Marković, who served as both the first lady and leader of one of Yugoslavia's largest political parties, initiated an effort to attract Chinese citizens to Serbia. At that time, Yugoslav leaders offered Serbian passports to Chinese individuals willing to relocate to Yugoslavia, particularly to Belgrade.
As a consequence of these efforts, thousands of Chinese nationals arrived in Serbia, which resulted in the establishment of a quasi-Chinatown in Blok 70, a neighborhood located in New Belgrade, the most populous municipality in Serbia. However, for many of these individuals, Belgrade and Yugoslavia represented merely a temporary stopover en route to a better life in some other European countries.
At that time, estimates suggested that several thousand Chinese nationals resided within the borders of what is now Serbia, but official data derived from the 2002 census identified just under 400 Chinese individuals living in the country at the dawn of the 21st century. According to the 2011 census, the official count of Chinese citizens holding permanent residency in Serbia amounted to 1,373 individuals. However, estimates suggest that the actual number might be much higher, ranging from several thousand to tens of thousands.
Despite the lack of any official or government-driven initiatives over the past decade to entice Chinese citizens to relocate to Serbia, the burgeoning presence of Chinese companies and expanding ties between the two nations have resulted in a marked increase in the number of Chinese individuals residing in the Balkan country. This trend is corroborated by official data.
Current Numbers
In response to a request for official information submitted by the author of this article, the Ministry of Interior disclosed that as of March 15, 2023, the total number of Chinese individuals holding either permanent or temporary residency status in Serbia was 14,586. Within this population, 11,776 Chinese citizens are classified as temporary residents, while 2,810 possess permanent residency status.
The city of Bor boasts the highest concentration of temporary Chinese residents in Serbia, with over 5,300 individuals holding Chinese passports currently residing there. This influx of Chinese citizens corresponds to one of the most substantial investments by Chinese companies in Serbia to date, the purchase of Bor mining and smelting combine by Zijin Mining company.
Belgrade ranks as the second city in terms of temporary Chinese residency, with 1,591 Chinese individuals. Regarding permanent residency, the Serbian capital also boasts the highest number of Chinese nationals residing in the city, with a count of 1,015, many of whom still reside in Blok 70. Notably, the second highest number of permanent Chinese residents can be found in the city of Pančevo, which is well-known for its thriving commercial activity involving Chinese citizens. Still, the estimates show that on any giving day, the number is higher. The main reason is that there is a possibility that not all of the Chinese citizens residing in the country (both on a permanent and temporary basis) have reported their residence to the Ministry of Interior.
The influx of Chinese citizens in Serbia can be attributed to the growth of foreign direct investment from China and the arrival of Chinese companies, together with Chinese labor force and management personnel. The watershed moment was the 2016 acquisition of the Smederevo steel mill.
The National Employment Service has reported that between 2016 and March 2023 33,058 work permits have been issued to individuals of Chinese nationality, among whom 4,687 were women. The highest number of work permits issued so far was in 2022, with a total of 10,043 permits to Chinese nationals granted, making up almost one third of the total. Thus, China is currently a number one source country for work permits in Serbia. Of course, not everyone who has been issued a working permit resides in Serbia permanently. At the same time, not all Chinese workers have necessarily been issued a permit, as some of them are coming through employment agencies that may not have disclosed the information to the relevant authorities.
In addition to Chinese citizens who have long resided in the region as well as Chinese workers, there has also been a so far limited number of Chinese students coming to the country. Upon inquiry, the Belgrade University secretariat disclosed that there are presently 59 students from China enrolled in undergraduate, postgraduate, and doctoral programs, with the majority of them (49) pursuing postgraduate studies. The Faculty of Law has the largest cohort of Chinese students at Belgrade University, with 10 students currently enrolled there. Although it is plausible that additional Chinese citizens are registered at other universities in Serbia, such as Novi Sad or Kragujevac, Belgrade University currently has the highest number of students, thus this figure is unlikely to change significantly.
Solidifying Chinese Footprint
Determining the precise total number of Chinese citizens residing in Serbia presents a challenging task. Factors such as the high level of worker fluctuation and possible underreporting of long-term residents with Chinese citizenship may significantly impact the final count.
However, the increasing size of the community could further promote Chinese footprint in various areas, including culture and security. Notably, the establishment of the largest Chinese cultural center in the Western Balkans in Belgrade is expected to serve as a focal point for China's soft power in the region. Moreover, the deployment of Chinese police officers in Serbia aims to act as an intermediary between Chinese citizens and domestic law enforcement, although concerns have emerged regarding potential noncompliance with the domestic regulatory system, posing a threat to domestic rule of law and sovereignty.
With an estimation of at least 20 thousand Chinese citizens residing in Serbia, potentially higher than the officially reported 14.5 thousand, the Chinese community within the country could potentially deepen the reach of Chinese soft power, propaganda messages, and even political engagement. As the partnership between Belgrade and Beijing continues to develop, one may expect the number of Chinese citizens in the country to rise, further amplifying existing trends and presenting new opportunities for socio-cultural, economic, and political cooperation between the two nations.
Written by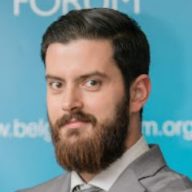 vladisavljev_s
Stefan Vladisavljev is the Program Coordinator of the Serbia-based non-governmental organization Foundation BFPE for a Responsible Society. He analyzes Chinese presence in Central and Eastern Europe with a special focus on Serbia and the Western Balkans.