While Serbia continues to profess its genuine interest in proceeding on the road of EU integration, it often fails to endorse EU foreign policy statements and actions, including on China.
Stefan Vladisavljev is a Visiting Fellow at CHOICE.
In its pursuit of EU membership, Serbia has exhibited a disjunction between its avowed objective of wholeheartedly committing to the road of integration and actual practice. One salient example of this contradictory approach is Serbia's record on aligning with the EU's Common Foreign and Security Policy (CFSP), encompassing adherence to the foreign policy pronouncements and restrictive measures set forward by Brussels.
Since the proclamation of Kosovo's independence in 2008, Serbia has deftly navigated the diplomatic arena, fostering ties with nations that withhold formal recognition of Kosovo as an independent state. Close bonds with major extra-EU players like Russia, China, and Iran, have helped Serbia gain support for its diplomatic campaigns, but have also contributed to Serbia lagging behind its counterparts among the candidate countries on the issue of aligning with EU foreign policy.
Falling Behind
Serbia has a continuous track record of the lowest level of alignment with the EU's CFSP declarations and Council decisions out of all the Western Balkans countries, as shown by the regular reports published by the International and Security Affairs Centre (ISAC).
The data from 2020 shows that Serbia adopted only 56 percent of the CFSP declarations and measures, making it the Western Balkans country with the lowest level of alignment, with Bosnia and Herzegovina being the second worst with 68 percent.
In 2021, Belgrade had a better result with a 61 percent alignment, but still surpassed only Bosnia and Herzegovina (which did not have candidate status at the time) with 35 percent.
Serbia exhibited the lowest degree of conformity to the EU's actions among the Western Balkan countries in 2022 again, a mere 48 percent. This was mostly due to Russia's invasion of Ukraine, where Serbia has not followed the EU's restrictive measures against Moscow.
A similar pattern persisted into the first half of 2023. Within this timeframe, Serbia endorsed 52 percent of the 65 declarations and decisions issued by the EU. Meanwhile, Albania, Montenegro, and North Macedonia attained complete alignment, with Bosnia and Herzegovina, which gained a candidate status in December 2022, manifesting a 97 percent alignment.
Hong Kong, Human Rights and Beyond
In addition to regularly not aligning with the political declarations and measures pointed against traditional partners of Serbia (e.g. Russia), Belgrade showed a track record of failing to adhere to any critical statements and moves towards China. Since 2020, when the EU became much more vocal and active on China-related issues, Serbia has not supported any of the altogether 10 CFSP declarations or Council decisions targeting Beijing.
Since 2020, Belgrade has not endorsed any of the numerous declarations on the unfolding events in Hong Kong. The statements specifically addressed Beijing's implementation of the National Security Law in the special administrative region, a move that significantly eroded Hong Kong's autonomy within China established during the reintegration process in 1997 and led to a crackdown on the remnants of democracy and civil society.
Belgrade's refusal to back the EU's common stance was not unexpected. Already in 2020, Serbian President Aleksandar Vučić openly expressed solidarity with Beijing's "wise and resolute" decisions vis-à-vis Hong Kong in a letter addressed to his counterpart Xi Jinping.
However, Serbia's failure to adhere to the EU's foreign policy line on China has not only touched upon Hong Kong. In July 2021, Serbia did not endorse the EU declaration identifying cyber threats emanating from China, specifically attributing malicious cyber activities to Chinese hacking groups targeting governmental institutions, political organizations, and critical industries in the EU and its member states. Serbia also did not support a similar EU public attribution of cyber attacks to China in June 2022.
Other instances touched upon the issue of human rights. Serbia refrained from aligning with two EU declarations in March 2021 under the EU Global Human Rights Sanctions Regime, one addressing the arrest and imprisonment of Alexei Navalny and imposing restrictive measures on individuals linked to Russian President Putin, and the other responding to human rights violations in China, North Korea, Libya, Eritrea, South Sudan, and Russia.
The declaration addressing Chinese human rights abuses pertains specifically to widespread arbitrary detentions of Uyghurs in the Xinjiang region of China. This has been in line with Belgrade's previously articulated position on the issue, closely mirroring Beijing's stance. In 2019, Belarus made a joint statement on behalf of 54 countries expressing "firm support of China's counterterrorism and de-radicalization measures in the Xinjiang Uygur autonomous region." Serbia was the only country with an EU membership candidate status to support the statement made in front of the Third Committee of the UN General Assembly. The same year, the Serbian top diplomat (currently serving as Serbian ambassador to the United States) reiterated the stance by saying that "the level of protection of minority rights in Xinjiang is something that many countries in my part of the world could envy."
In 2023, Serbia continued not to align with the decisions under the umbrella of the Global Human Rights Sanctions Regime, including once again, those pertaining to Beijing's treatment of the Uyghur minority in the Xinjiang region. 
No More Fence Sitting
What drives Serbia's decision to distance itself from the EU's declarations as a candidate country? One argument posits that Belgrade is mostly motivated by the imperative of safeguarding its national interests, notably regarding the contentious independence of Kosovo. This makes Serbian diplomacy prone to align with Eastern allies who historically supported Belgrade on these matters and are crucial due to their diplomatic weight.
A second discernible factor relates to Serbia's concern for its economic interests, which is particularly the case in relation with China that has become Serbia's leading investor last year amid increasingly close economic cooperation. At the same time, this gives China potential leverage to influence Serbia's foreign policy.
The answer likely resides in a mix of these two primary factors. However, it is clear that Belgrade's complicated dance is becoming increasingly untenable to maintain. Either it will fully commit to its European trajectory, or it will choose to maintain its special relationships with China and Russia. 
When confronted with Serbia's unwillingness to harmonize its foreign policy orientation with that of the EU, officials in Belgrade often remain defiant. In reaction to criticism of Serbia's statements on Xinjiang, Veroljub Arsic, an official from the ruling SNS party, remarked that Serbia's nonalignment could be a problem "once Serbia would participate in the EU's decision-making process. "Until then, Serbia is an independent, sovereign state and leads its policies in line with its interests, respecting the international law," added Arsic.
While candidate countries are indeed not compelled to achieve full alignment with EU foreign policy declarations, prospective member states have to realize that they cannot hope to join the club unless they fundamentally reassess their foreign policy outlook. Serbia's full dedication to the value system articulated by the European community is imperative for it to emerge as a constructive and contributing EU member. Otherwise, there exists the potential for Serbia to assume a disruptive role within the community. And the EU hardly needs another Hungary.
Written by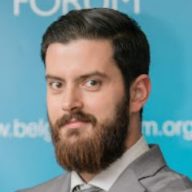 vladisavljev_s
Stefan Vladisavljev is the Program Coordinator of the Serbia-based non-governmental organization Foundation BFPE for a Responsible Society. He analyzes Chinese presence in Central and Eastern Europe with a special focus on Serbia and the Western Balkans.