One year after entering office with a promise of an ambitious values-based foreign policy, the Lithuanian government is indeed creating ripples on the global stage.
Most prominently, Vilnius' decision to leave China's 17+1 format and develop closer ties with Taiwan led to an all-out diplomatic conflict with China. In the latest salvo in escalating Sino-Lithuanian strife, Beijing has downgraded bilateral ties and even implemented a rare trade boycott against the country.
Beijing seems to be committing itself to the use of various tools it can wield to pressure and openly discredit Lithuania's human rights record. Clearly, this is done with the aim of forcing Vilnius to reconsider its current posture. However, the harsh rebuke and reaction also serve as a stern warning for other countries against following Lithuania's lead. Even though the domestic opposition to Lithuania's approach is increasingly vocal, it is unlikely that Vilnius will succumb to such pressures and back down from its current tack on Taiwan.
Breaking the Taiwan Taboo
Since the spat began, China has employed various pressure tools and hostile rhetoric against Lithuania. A few months before the opening of the Taiwanese office, Vilnius' position towards China seemed to become increasingly cautious. Indicative of this more cautious tact, the opening of the Taiwanese representative office was delayed and the Taiwanese Foreign Minister Joseph Wu did not visit Vilnius during his European trip. Many astute onlookers took this as a potential sign that Vilnius was reconsidering its initial position. However, as a surprise to some, the Taiwanese Representative office in Vilnius officially began operations on November 18.
While the Lithuanian media covered the event rather positively, the domestic debate about potential responses from China soon dominated the scene. Chinese Ministry of Foreign Affairs published a statement condemning Lithuania's actions and accused the country of creating a "One China One Taiwan" precedent. A few days later, China announced the decision to downgrade the bilateral ties to a chargé d'affaires level that is the lowest level of diplomatic representation according to the 1961 Vienna Convention on Diplomatic Relations.
It is a rare move by Beijing: the last time China took this particular diplomatic response date back to a Taiwan-related conflict with the Netherlands in 1981. A signal of severely frayed ties, Lithuania's diplomatic delegation to China hastily departed in the face of apparent intimidation.
Mixed Domestic Views
While there is a consensus among the parties regarding the potential benefits of closer cooperation with Taiwan, agreement as it pertains to engaging China is much harder to come by.
The opposition is critical of the significantly deteriorated bilateral ties with China and the government's inability to defuse the Sino-Lithuanian diplomatic conflict. A part of the society has also expressed concerns regarding the current situation, in which Lithuania involved itself in an open confrontation with a world superpower that resulted in significantly affected bilateral economic ties and future prospects for cooperation.
Indeed, the public sentiment is also not entirely sold on the current policy adopted by the government. Recently, the Lithuanian National Radio and Television (LRT) published the findings of a survey of public opinion about Lithuania's foreign policy. While respondents view Lithuania's position towards Belarus rather positively (48.5 percent of the respondents expressed their support), the public opinion with regards to Lithuania's foreign policy towards China/Taiwan was mixed (33.5 percent of the respondents supported Lithuania's stance, while 40.5 percent did not).
Lithuanian MP Saulius Skvernelis, a former prime minister of Lithuania and an influential opposition figure, is openly critical of Lithuania's position towards China. In his response to the opening of the Taiwanese office published by Delfi, Skvernelis opined that with such a move Lithuania has "put a full stop in its relationship with China." Giedrius Surplys, a member of the Farmer's and Green's Union (the largest opposition faction in Seimas) and a Shadow Foreign Minister, is also highly critical of the government's stance.
In a recent article by Delfi, Surplys, whose party was the only one that refused to send a representative to Taiwan as a part of the parliamentary delegation, voiced his criticism of the planned visit stating that it is in Lithuania's interests to maintain good relations with both Taiwan and China.
Lithuania – a Human Rights Abuser and a US Pawn?
Since the opening of the Taiwanese Representative Office in Vilnius and the downgrading of diplomatic ties, the Chinese media attention on Lithuania has increased significantly. The official narrative took a surprising turn: the criticism became increasingly focused on Lithuania's human rights situation. In its usual style, the Global Times published a series of articles to highlight Lithuania's "dark history" focusing not only on accusations of inhumane treatment of refugees along the Lithuanian-Belarussian border, but also on the evaluation of Lithuania's past wrongdoings' such as with regards to the so-called CIA's "black jails" and Lithuania's role in the torture of prisoners. The Global Times also went as far as to condemn Lithuania's "shocking past and present" including the country's role in the Holocaust, nationwide discrimination and mistreatment of ethnic minorities.
While this might be hand-waved as the usual ramblings of the Chinese jingoistic media, Beijing's official statements mirrored this approach. During his media conference, Chinese MFA spokesperson Zhao accused Lithuania of setting "double standards" and refusing to address the country's appalling human rights situation. The accusations included some shocking statements such as "Since World War II, the racism in Lithuania towards Jews and other ethnic minorities remains a huge problem, ethnic minorities suffer from discrimination, their rights to access to medical care and freedom of movement are seriously violated."
Shortly after, the Lithuanian Jewish Community (LJC) released a statement in which it "strongly rejects these accusations made by the Chinese Foreign Ministry. " LJC stressed that "Lithuania is a democratic country that respects Lithuanian Jews' and other citizens' rights", and that it "wishes that ethnic minorities in China could enjoy the same rights as Lithuanian Jews in Lithuania."
What this episode shows is that China's criticism towards Lithuania is beginning to echo the usual lines of Russian propaganda in the country, again showing an interesting overlap between the two powers' approaches.
From a broader perspective, human rights-related criticisms are becoming a common response from Beijing. Countries that are critical of China's human rights record, especially related to Xinjiang and Hong Kong, are heavily criticized in turn by China and accused of "double standards." While Beijing has long been focused on the criticism of the US human rights situation and treatment of its minority groups, after the EU's imposition of sanctions regarding Xinjiang, China also started to target the EU countries.
Finally, Chinese media relentlessly push the narrative of Lithuania as a mere pawn in the US hands. While such a narrative appeared already after Lithuania withdrew from the 17+1, as the bilateral relations deteriorated over Taiwan, Beijing began more actively portraying Lithuania as a blind follower of the US and, at the same time, questioning its sovereignty and ability to make independent choices. Recently, the US and Lithuania signed a $600 million export credit agreement that the Chinese media portrayed as "the US payment" for Lithuania's decision to deepen its ties with Taiwan.
The Standoff Continues
At present, there are no signs that the Sino-Lithuanian diplomatic standoff is coming close to a conclusion.
Neither country has thus far shown any willingness to back down nor do they appear likely to do so in the near future. Apart from the downgrading of diplomatic ties, economic cooperation is becoming severely constrained. As reported by LRT, the Lithuanian exporters stated that since December, China removed Lithuania from its customs system making Lithuanian imports into China impossible, however, Global Times recently reported that such allegation is false, creating some confusion. After four days, Lithuania returned to the Chinese customs system.
From this befuddling drama, the situation has become rather comical. The very next day, Vidmantas Janulevičius, the president of the Lithuanian Confederation of Industrialists, reported that Lithuanian exporters are once again experiencing issues with the system, this time, imports from China also began to experience issues.
While China's direct leverage against Lithuania remains very limited, it does seem to make use of all tools available to "punish" Lithuania including Chinese media campaigns against the country and even pressure on multinationals that rely upon the Chinese market. At the moment, it is clear that China is positioning itself to become the most vocal critic of Lithuania's human rights situation and fabricating various false accusations.
Next year, Lithuania begins its two-year term at the UN Human Rights Council. It will be interesting to see how China, the current member of the Council, would react to Lithuania's presence and activities on the Council.
As the domestic opposition to Lithuania's firm stance towards China seems to become increasingly vocal, the Taiwanese media is beginning to express concerns about the possibility that various pressures might affect Lithuania's plans to open its economic office in Taipei.
With the use of various coercion tools and active efforts to discredit Lithuania's reputation, Beijing aims to influence Lithuania to back down and reconsider its current approach. Perhaps more importantly, China wants to use this standoff with Lithuania to set an example and dissuade other countries from following its course.
However, there are no signs that the current government of Lithuania would be willing to back down from its push to develop closer ties with Taiwan.
Written by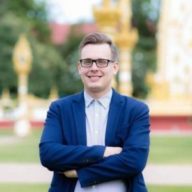 RaigirdasBoruta
Raigirdas Boruta is an Associate Expert at the China Research Program within the Eastern Europe Studies Centre in Vilnius and a PhD candidate at Vilnius University. His research interests include sinology, Chinese foreign and domestic policy, and the history of the PRC.