Russia's War Creates Opportunities for China in Central Asia
As the war in Ukraine continues, China sees greater economic and political openings in Central Asia, the region extremely wary of Russian military ambitions.
Russia's invasion of Ukraine reverberated far and deep across the Eurasian continent. One region which is especially susceptible to the pace of changes is Central Asia. Here, Russia, China, and Iran, the three former imperial powers willing to change the present world order, seek to impose a version of regionalism that excludes non-regional powers, chiefly the US and the EU, from playing an active role. However, the trend is not limited to the region, with similar developments taking place elsewhere across the continent, whether it is in the Black Sea, South Caucasus, or the South China Sea, where the race towards establishing spheres of influence has accelerated.
The most significant game-changer to the geopolitical situation in the region is, of course, Russia's invasion of Ukraine. Among other effects, Moscow's aggression against its neighbor risks undermining the balance Moscow and Beijing have successfully maintained in Central Asia. The unofficial division of labor where Russia is a major security player and China focuses on the economic engagement has often been challenged as Beijing made inroads into security areas, too. Now, the pace of change could further accelerate.
Russia's war put its Central Asian neighbors on high alert, in fear that Moscow might use the same tactics as in Ukraine. Seeing Vladimir Putin fixated on making dreams of recreating the imperial map of Russia a reality, the former subjects to Moscow's suzerainty cannot feel safe. This is especially true with Kazakhstan which shares a 7,644-kilometre border with Russia and northern parts of which are populated with ethnic Russians.
While the tensions between Kazakhstan and its northern neighbor rarely get to the surface, they can hardly be dismissed. The friction was on public display at the latest St. Petersburg International Economic Forum. Speaking at the gathering, the first deputy chairman of the committee of the State Duma for the CIS and relations with Russian nationals abroad, Konstantin Zatulin, rather ominously remarked that "[Kazakhs] know too well that a number of regions, settlements with a predominantly Russian population had little to do with what was called Kazakhstan." This followed a rather unexpected exchange between the Kazakh president, Kassim-Jomart Tokayev, and Russia's notorious propagandist, Margarita Simonyan, in which the Kazakh president said his country will not be recognizing Lugansk and Donetsk separatist republics – the policy Kazakhstan has pursued also toward other separatist entities supported by Moscow. What is more interesting, however, is that the exchange took place in Vladimir Putin's presence.
Later, unconfirmed reports emerged that Kazakhstan stalled 1,700 railcars of Russian coal on its territory in response to Moscow's decision to block Kazakh oil. Many linked the development to Tokayev's statements. Yet, this was not a one-off deviation from supporting Russia, as Kazakhstan has consistently refused to toe the Russian line. In April, one Kazakh official argued that Kazakhstan will not help Russia to evade Western sanctions imposed on Moscow.
Confident Kazakhstan
To many, Kazakh behavior seems dangerous with geopolitically far-reaching effects on its relations with Russia and the security of the northern territories. Comparisons with Georgia and Ukraine go rampant – a similar fate might await Kazakhstan. An established analysis argued Kazakhstan feels vulnerable especially after the unrest in early 2022 when Russia-led Collective Security Treaty Organization (CSTO) troops were deployed to Kazakhstan. The thinking was that beholden Tokayev would have to keep close to Russia.
Though this analysis is not entirely unfounded, a closer look reveals that Kazakhstan could actually be far more confident than other Russia's neighbors. One critical factor to consider is that any major military move against Kazakhstan's territorial integrity risks deteriorating Moscow's ties with Beijing, which sees Kazakhstan as a gateway to Europe and a vital part of the sprawling Belt and Road Initiative (BRI). This gives Kazakhstan greater space for maneuver.
As the Russian invasion creates cracks in Moscow's ties with its Central Asian neighbors, a widening space for diplomatic and economic maneuver will allow Beijing to gain a firmer hold in the region's affairs. China will, nevertheless, be careful. Beijing will not make major moves to undermine its ties with Russia – larger issues such as competition with the US take precedent and Beijing has consistently made it clear that it is willing to give Russia political support on the international stage despite its war on Ukraine.
Yet, the emphasis on greater Chinese engagement with Central Asia and especially Kazakhstan is nevertheless to be expected. A spillover effect from the troubled Russian economy (including a decreased level of remittances) will be pushing Central Asian states to embrace Chinese investments more readily. Moreover, increased cooperation with China can be a way to hedge against the military threat from Russia.
These sentiments were visible in early June when the third China-Central Asian states summit (C+C5) was held where participants agreed to develop a structure for regular meetings between the informal groupings' heads of state. The conference also approved four joint documents, including on data security and strengthening connectivity. The Chinese side stressed that Beijing would always stand behind Central Asian nations in respecting their sovereignty and independence, which bears particular relevance in the current context. The parties also agreed on 10 points covering cooperation under the BRI, and maintaining indivisible regional security. While here, China essentially echoes Russia's thinking toward security in the immediate neighborhood, at the same time, it signals that also Russia is not to be allowed to threaten China's own security interests by encroaching upon its neighbors.
The Middle Corridor
Connectivity has long been a key topic on the agenda for China-Central Asia cooperation, but its relevance is bound to increase further. The Russian invasion set in motion massive changes in the connectivity of the Eurasian continent. The Russia route used by China to reach Europe by rail is hobbled by anti-Russia sanctions and, quite naturally, Beijing seeks alternative routes to ensure unimpeded trade flows. This puts Kazakhstan in an advantageous position as the Middle Corridor stretching from Turkey to the Caspian Sea would not be operative without Kazakh ports.
Early signs of the re-emergence of the Middle Corridor are quite promising. Cargo transshipment across Central Asia and the Caucasus is expected to increase sixfold to 3.2 million metric tons year-on-year. In April, Maersk, a Danish shipping corporation, started a new train service along the Middle Corridor in response to the changing geopolitical situation in Eurasia. Another company, Finland's Nurminen Logistics, started running a container train from China to Central Europe through the trans-Caspian route on May 10.
The developments are also spurring cooperation among regional actors along the route. In early May, a Georgian Railway team met in Ankara with counterparts from Turkey, Azerbaijan, and Kazakhstan to discuss the Middle Corridor of the Trans-Caspian International Transport Route project. On May 25, Georgia's state railway company said that it was working with businesses from Azerbaijan and Kazakhstan to develop a new shipping route employing feeder vessels between Georgia's Poti and Romania's Constanta. This follows a joint declaration by Azerbaijan, Georgia, Kazakhstan, and Turkey in late March on improving the region's transportation potential.
In re-invigorating the Middle Corridor, China and Kazakhstan also seek greater support from other players, namely, Turkey. While Turkey may lag behind China and Russia in what it can offer to the regional states, it also presents an alternative to those who fear Russia but also feel uncomfortable relying heavily on China. A quest for diversification of diplomatic and economic ties creates a favorable momentum for Turkey's increased penetration into the region. Recently, there has already been a noticeable upsurge in active diplomacy by Ankara, seeking to capitalize on the developments with diplomatic visits and pledges to enhance bilateral trade among Turkic nations.
The growing interest to circumvent Russia was reflected in the messages Kazakhstan's Tokayev conveyed to his Turkish counterpart Recep Tayyip Erdoğan during the visit to Ankara in May as well. The joint statement included an interesting passage on connectivity when the two countries agreed to enhance cooperation in transport and logistics, praised the growth of cargo transit via the Baku-Tbilisi-Kars railroad, and stressed the importance of the Middle Corridor.
Hence, Russia's war creates significant opportunities for China in Central Asia. Even if Beijing will be careful not to upend the balance straight away, it will chip away at Russia's influence and use the emerging openings, such as by helping Kazakhstan to diversify its economic and political dependence away from Russia or building the Middle Corridor as a potential alternative to the Russian route. In Russia, this is sure to cause grievances, but Moscow finds itself in an unenviable position when it cannot really openly oppose Chinese moves without compromising their mutual understanding on joint resistance to the collective West. At a time when the end of the war in Ukraine is nowhere in sight, having China's backing seems far more critical.
Written by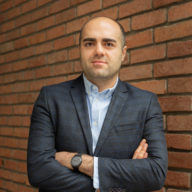 emilavdaliani
Emil Avdaliani is a Professor at European University in Tbilisi, Georgia, and a scholar of silk roads.