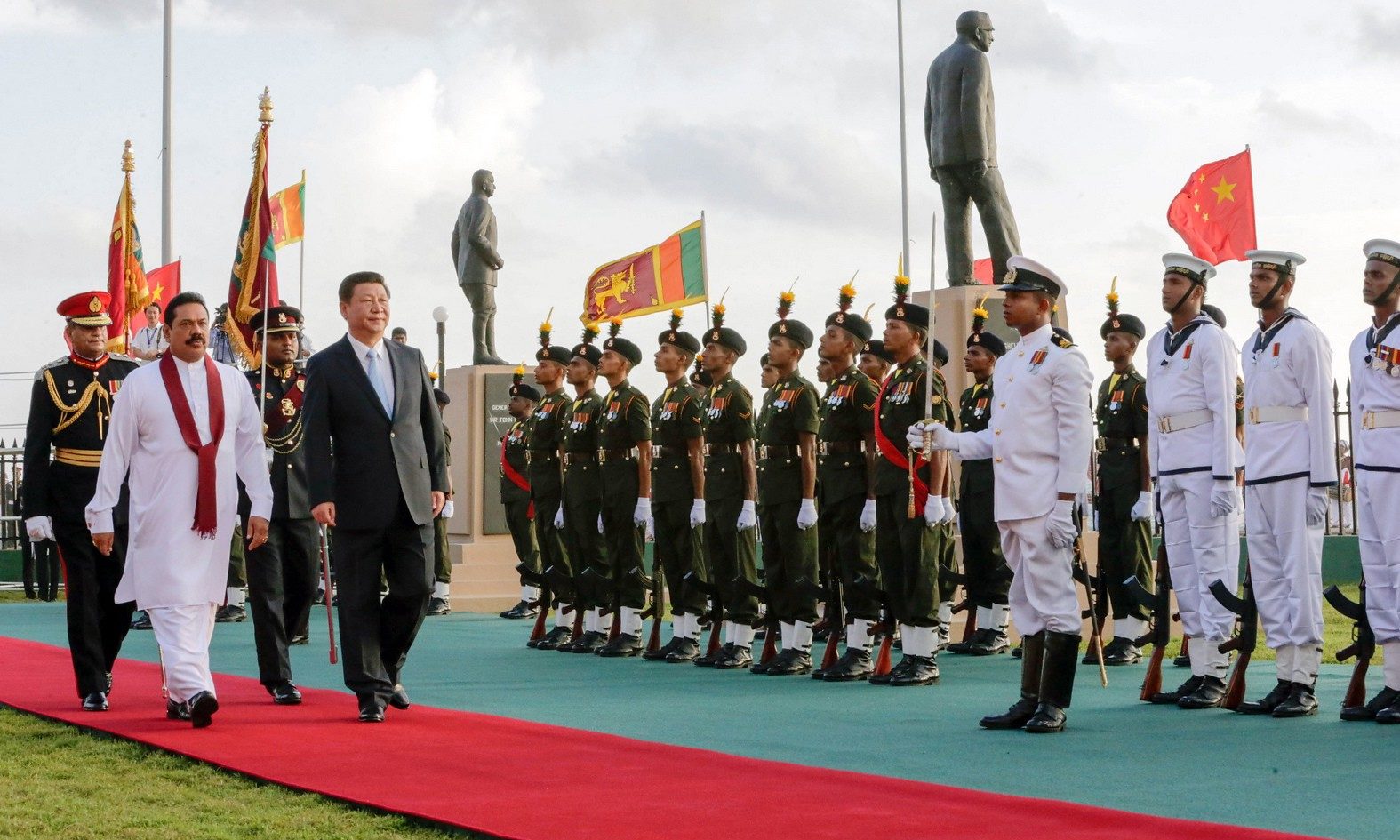 The recent economic crisis and political unrest in Sri Lanka prompted a soul-searching as to whether China's actions over the previous decade trapped Sri Lanka into a debt trap, a question that needs a nuanced answer.
China's Playbook
There are several different paths toward increasing one's influence in global politics. Spreading values similar to what you share, democracy and free markets, via soft power is one. Brute military force is another.
A middle path most recently pursued by China relies on providing economic inducements but also establishing economic dependencies. In some cases, China has even been accused of conducting a "debt trap diplomacy" toward other countries, most notably in Sri Lanka.
The playbook is very clear. China approaches authoritarian regimes with little accountability to its people. Projects that are key to displaying visible economic growth – highways, ports, telecoms, railways, and airports – are the most preferred for priority funding. These projects usually favor the home electoral areas of the ruling class and usually have little or no return-on-investment calculations done before being undertaken.
Sure enough, when bills come due, very few if any of the governments can afford to pay. What happens next is pretty clear as well. China often ends up being the largest bilateral debtor giving Beijing a veto over sovereign debt restructurings of these highly indebted vulnerable countries, which the IMF now increasingly requires as a prerequisite for a bailout.
After a burst of initial loose lending as part of its flagship Belt and Road Initiative, China has slowed project lending in recent years. However, China has recently started lending to these very same highly indebted vulnerable countries once again, but with shorter term maturities and higher interest rates for balance sheet support to prop up their foreign currency reserve.
Effectively China has now been playing the role of both the IMF and World Bank combined but without any of the 'cumbersome' conditions that come attached from such institutions such as demands for a proper macroeconomic framework, fiscal discipline, tackling corruption, and respecting human rights.
Chinese Role in Sri Lanka
What happened in Sri Lanka followed a similar pattern. However, it was the actions of its ruling elite that made this scenario possible, with China becoming one of Sri Lanka's largest bilateral debtors over one and a half decades.
Shunned by the West for the perceived war crimes committed by his regime during the last phase of the civil war, the newly elected President Mahinda Rajapaksa found a willing ally in China in 2005. China helped fund and construct many vanity projects in Rajapaksa's southern voter base of Hambantota which accounts for a mere 2.6 percent of the overall population of Sri Lanka.
These China-funded projects included the world's most underutilized international airport, the Hambantota port in Southern Sri Lanka, and a conference center that has only hosted one international conference since being constructed. Additionally, in Colombo, a China-funded Lotus Tower that is the tallest self-supported structure in South Asia is yet to open to the public. Even while other projects floundered, China financed its most ambitious project yet, the Colombo Port City, meant to be a finance hub to rival Dubai and Singapore in 2014.
Economic Woes
Despite being the first country in South Asia to implement economic reforms in 1977, Sri Lanka has had to seek 16 IMF bailout programs due to fiscal and monetary indiscipline tracing back to the 1950s. Despite the previous economic challenges, Sri Lanka maintained an unblemished debt repayment reputation for 74 years post-independence. Last year, however, Sri Lanka began to experience a forex crisis.
The most immediate reasons for Sri Lanka's forex crunch were the loss of foreign exchange earned via tourism revenue due to the COVID-19 pandemic. Russia and Ukraine had replaced China, India, and others as the top tourist source countries as the pandemic spread, hence when the war in Ukraine erupted, it compounded the impact on tourism just as it was recovering post-pandemic.
Worker remittances and export proceeds, which are two of the main sources of forex for Sri Lanka, also contracted sharply due to the ill-fated decision to effectively fix the exchange rate in July 2021. The move pushed expatriate Sri Lankan workers to remit money via informal channels where they received better returns and also led to exporters delaying the repatriation of their foreign earnings.
The war in Ukraine led to a ballooning import bill for the two largest import items, crude oil, and refined petroleum products. By April 2022, faced with rapidly dwindling forex inflows, a ballooning import bill, and almost depleted forex reserves, Sri Lanka finally defaulted. The debt default led to unprecedented shortages of basic necessities as global suppliers who had in the past extended credit to the country were extremely reluctant to do so now.
Moreover, the country was also hit by a food crisis, precipitated by an ill-informed and arbitrary decision to ban all fertilizer imports in favor of organic farming by an all-powerful executive president lacking government experience.
As noted by the new Central Bank Governor, the inordinate delay and stubbornness in not approaching the IMF was the final nail in the coffin that resulted in running out of reserves completely, resulting in the shortages of essential items and political unrest.
The catastrophic state of the Sri Lankan economy ignited the protests that brought about the resignation of, first, Mahinda Rajapaksa as Prime Minister, and later his brother, Gotabaya Rajapaksa, from the powerful role of Executive President. This was an inglorious downfall as both of them were elected by super majorities only a couple of years before.
China's Responsibility
China is now Sri Lanka's leading bilateral debtor holding ten percent of the country's outstanding debt, by the government's estimates. Moreover, many sources claim official statistics do not fully reflect Sri Lanka's debt figures including what is owed to China. However, what is clear is that the projects dubbed "white elephants" have been almost exclusively funded by China. Moreover, Chinese-funded projects in Sri Lanka have been accompanied by a troubling lack of transparency which stands in contrast to, for example, Japanese-funded projects where the terms are publicly disclosed and costs are challenged by the media.
Does this make China responsible for Sri Lanka's economic and debt crisis?
This is where it gets complicated. The unsustainable costs of foreign debt were mainly comprised of international sovereign bonds (ISB) which Sri Lanka became addicted to in the post-civil war period. Coming in at a staggering $12.55 billion outstanding, these ISBs make up the largest share of Sri Lanka's foreign debt. Unlike the borrowings from multilateral agencies like the IMF, World Bank, or ADB, where the interest rates range between 0.25 percent and 3 percent, interest rates for the current ISBs issued by Sri Lanka vary from a low of 5.75 percent per annum to a high of 7.85 percent.
Was China responsible for the debt default per se? Again – probably not.
Arrogance on part of the ruling elite of the Rajapaksa family and a few trusted government officials was the main reason. China often claims it is the host countries that choose projects for Chinese funding, and it was indeed so in Sri Lanka's case. While unproductive assets are a drain on economies and divert capital from more productive assets, the nature of Sri Lankan politics in the post-2005 Rajapaksa era meant that some of these white elephant projects would probably have been undertaken irrespective of Chinese funding, even if not necessarily in the same grand and unsustainable scale.
Nevertheless, that does not absolve China of blame completely, as its irresponsible lending helped the Rajapaksa regime win elections, allowing the debt situation to drag on much longer than it needed to without IMF intervention.
The outcome of this economic crisis has effectively given China possibly the most important voice in determining Sri Lanka's future direction. According to the Sri Lankan Finance Ministry's data from August, Sri Lanka's total bilateral debt stands at $10 billion. At the end of 2021, some 44 percent were borrowings from China, with loans from Japan and India representing 32 and 10 percent of the bilateral debt burden respectively.
As the lead bilateral debtor, China will play an outsized role in setting the direction and pace of how Sri Lanka emerges from its debt malaise and ultimately, its economic crisis. If anything, China will use its leverage to further its political interests. The most recent example of the controversy related to the docking of the Chinese 'spy ship' Yuan Wang 5 at the Hambantota Harbour, despite hesitation by the Sri Lankan Government to let it in, demonstrates the real costs to Sri Lanka are yet to be seen.
Written by
imranfurkan
Imran currently serves as CEO of Tresync, Australia. He is a geo-political and economic analyst operating out of Sri Lanka and Australia.