Voice for CHOICE #30: Making Sense of Georgia's Strategic Partnership with China with Emil Avdaliani
The Russian invasion of Ukraine has created a momentum for Georgia to become a major transit hub as both the EU and China are looking to diversify their trade routes away from Russia. Over the past decade, Tbilisi and Beijing have deepened their economic ties. At the end of July 2023, China and Georgia announced an upgrade in bilateral relations to a strategic partnership. While China is seeking to expand its presence in the South Caucusus, Tbilisi might be using the partnership with China to grant concessions from Brussels ahead of the EU's decision on the country's candidacy for membership.
This month's guest
Emil Avdaliani, Professor of International Relations at European University in Tbilisi.
Show notes
Written by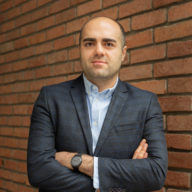 emilavdaliani
Emil Avdaliani is a Professor at European University and the Director of Middle East Studies at the Georgian think-tank, Geocase.