Future CHOICE Summer School 2022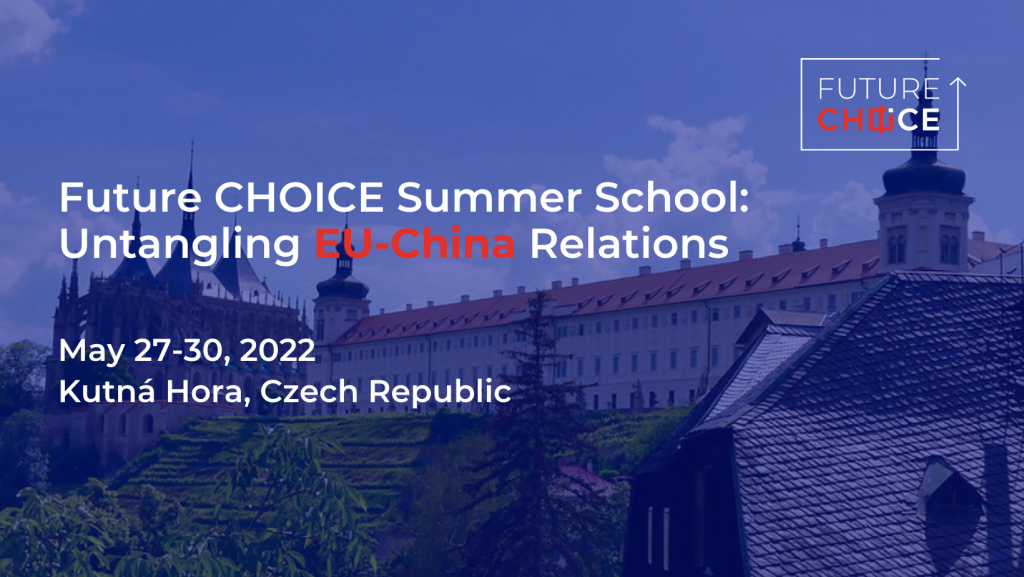 Applications have now been closed. Thank you for your interest in our program!
CHOICE is pleased to open applications for the 2022 summer school titled Untangling EU-China Relations organized within the Future CHOICE initiative!
The exciting summer program will gather a group of aspiring young professionals and advanced university students from around the European continent. The summer school focusing on the challenges of EU-China relations will take place on May 27-30, 2022, in the beautiful UNESCO World Heritage town of Kutná Hora, Czech Republic, near the capital Prague.

What to expect?
Exclusive sessions with leading experts on China-Europe relations
Engaging role-playing simulations of summit negotiations
Intensive group work under realistic pressure and time constraints
Networking with esteemed participants from all over Europe
Learning about future career opportunities in the field
Four days spent in the beautiful medieval environment of Kutná Hora and the enchanting premises of its baroque Jesuit College
Who are we looking for?
Young professionals, post-docs, Ph.D. candidates and advanced Master students interested in contemporary China affairs (from the fields of e.g. Sinology, Area Studies, International Relations, Security Studies, Peace Studies, Political Science but also Economics, Law or Environmental Studies if having a proof of demonstrated interest in China)
Participants from all parts of Europe – as a platform dedicated to making voices from Central and Eastern Europe heard in discussions about China in Europe, we believe it is important to foster a new generation of China scholars in the region. Participants from Central and Eastern European countries (i.e. Albania, Bosnia and Herzegovina, Bulgaria, Croatia, Czech Republic, Greece, Estonia, Hungary, Latvia, Lithuania, Moldova, Montenegro, North Macedonia, Poland, Romania, Slovakia, Slovenia) are especially encouraged to apply.
Participants with a good command of spoken and written English
Motivated, enthusiastic people who will participate in discussions and prepare for expert sessions by reading assigned materials
How to apply?
Send your application to veronika.blablova@amo.cz
Deadline for application: APPLICATIONS CLOSED
Attach your professional CV, motivation letter and an essay (max. 5,000 characters) on a) the current state of EU-China relations (including the forecast for 2022) or b) bilateral relations between China and one European country (including the forecast for 2022)
Shortlisted candidates will be invited for an online interview in the first half of April
Summer school fee: €500
The fee covers participation fee (€100), accommodation, international and local travel, meals and the full program. International travel within Europe (up to a reasonable limit) and local travel costs will be reimbursed.
We offer a limited number of scholarships for applicants from Central and Eastern European countries, covering the full summer school fee except for the participation fee of €100.
We encourage participants to discuss opportunities of financial support provided by their home institutions.
DOWNLOAD THE SUMMER SCHOOL FLYER HERE
In case of complications regarding the COVID-19 pandemic, CHOICE is ready to redesign the summer school into an online format and proceed with the promised program.
For further inquiries about the program, please contact Future CHOICE coordinator Ms. Veronika Blablová at veronika.blablova@amo.cz.
You can find the information about our summer school also at https://www.summerschoolsineurope.eu/.