Could NATO Membership Be a Game-Changer for the Western Balkans Engagement with China?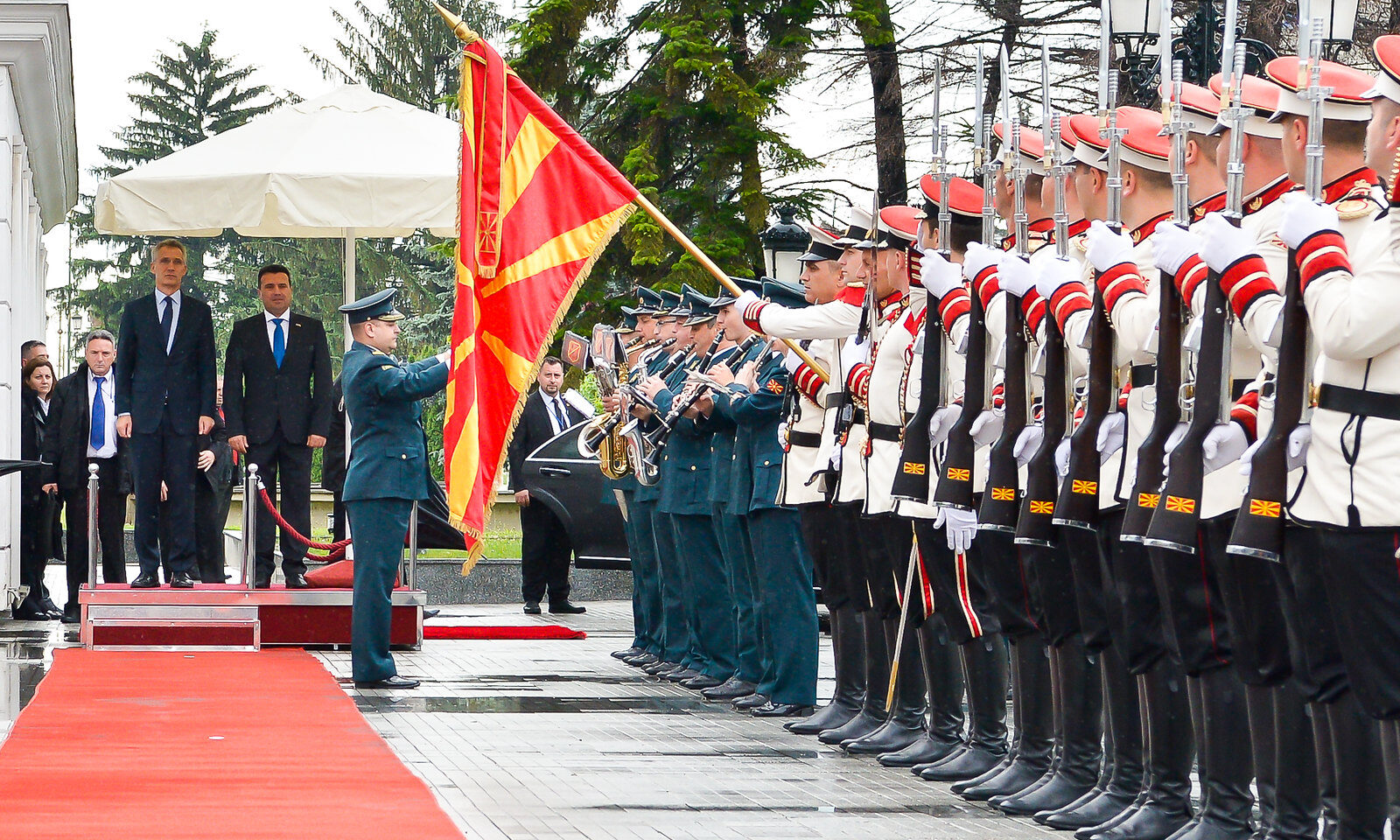 Changing views of the China challenge in the Alliance will reverberate through the Western Balkans.
In recent years, with the deterioration of the US-China relationship, the war in Ukraine, and ensuing global polarization, Western Balkan countries have been increasingly encouraged to pick a side.
For some of them, the choice is obvious: NATO members in the Western Balkans have demonstrated increased alignment with the Alliance's positions. For some non-members, however, China remains a potential or even a strategic partner, including in critical and highly sensitive areas. Amidst a complex global environment and often difficult domestic politics, NATO membership could influence policy choices that Western Balkan countries make in key domains which are of interest to China.
Unfinished Business?
Located in the heart of Europe and surrounded by EU and NATO member states, the strategic orientation for all the Western Balkan countries has been European and/or Euro-Atlantic integration. Three out of the six Western Balkan countries are NATO allies: Albania since 2009, Montenegro since 2017, and North Macedonia since 2020. However, there is little expectation that the remaining three countries will join any time soon, for different reasons.
In the case of Kosovo, despite the strong political will and popular support at 89 percent, joining NATO is difficult in a situation when other NATO members do not recognize its statehood, due to their own secessionist problems, or friendly relations with Serbia. NATO-led peace enforcement operation (KFOR) has been in place in Kosovo since NATO's military operation against Serbia aimed to end the Kosovo war in 1999.
It is precisely NATO's engagement in the Kosovo war and the air strikes against Yugoslavia in 1999 that until today underlie Serbia's reluctance to join the Alliance. At the same time, the neighboring Bosnia and Herzegovina is quite divided on the issue, with the Federation (the entity with mostly Bosniak and Croat population) being for, and Republika Srpska (the entity with mostly Serb population) being against the idea.
Still, both Serbia and Bosnia and Herzegovina are members of the Partnership for Peace program since 2006 and maintain intensive cooperation with NATO. Since 2015, Serbia and NATO have worked on Individual Partnership Action Plans, the highest mechanism for partners who do not aspire to join, while Bosnia and Herzegovina has been in the process of Membership Action Plans since 2010. However, there is little prospect of it becoming a new member state in the foreseeable future. While the war in Ukraine and internal instability in recent years created a sense of urgency for Bosnia and Herzegovina's accession, it has also revealed Russia's strong opposition to the move and its grip over the Serb part of the political elites.
What's at Stake for NATO and China in the Western Balkans?
The Madrid Summit Declaration in June 2022 listed, for the first time ever, the "systemic competition" coming from China among the Alliances' strategic priorities. NATO's 2022 Strategic Concept further details and acknowledges the military, political, and economic challenges that China poses for the Alliance and stresses the need to increase the preparedness and response capabilities, while at the same time leaving a window open for "constructive engagement." The enhanced security threat related to China's "no-limits partnership" with Russia, especially in light of the war in Ukraine, further leads NATO to strengthen the partnerships with like-minded countries, in the Indo-Pacific region, namely Japan, South Korea, Australia, and New Zealand.
The most pressing concerns for NATO include China's technological advancements and attempts to dominate areas with potential security implications, including but not limited to 5/6G, quantum computing, and artificial intelligence, as well as its strategy for civil-military fusion which leverages investments in traditionally civilian sectors to support the development of China's military. Economic dependencies related to China's presence in key industries and critical infrastructure are also a point of concern, as well as the extraction of critical and strategic raw materials by Chinese companies. Finally, China's support for the Russian aggression in Ukraine has made it even more difficult to consider China independently from the broader security implications of Russian activities.
China has been quick to respond to what it sees as NATO's global focus shifting to the Indo-Pacific, amounting to a direct threat to its interests. In the overlap of China's and Russia's propaganda, NATO is considered Washington's tool to bolster its global hegemony and strategically encircle its key rivals.
In the case of the NATO membership of the Western Balkan countries, Beijing's stance has been more nuanced and in flux throughout the years to reflect the ebb and flows of the US-China relationship. In 2021, China's ambassador in Podgorica declared that China respects Montenegro's strategic choice to join NATO, but warned against NATO's "Cold War" mentality and urged Montenegro to maintain an independent foreign policy, including towards China. China's Embassy in Skopje also became more vocal and critical since North Macedonia joined the Alliance and started to align with its positions and policies.
Security Cooperation in Focus
Western Balkan countries mostly align with NATO's positions and policies, but rarely undertake their own commitments or initiatives and do not make public assessments of their interaction with China and its security implications. National security reviews are sometimes outdated, as is the case with North Macedonia's national security conception dating back to 2003. In other cases, they are intentionally vague and do not take specifically into account China, its global rise and regional presence, as is the case with Albania's 2021 National Security Strategy. This balancing goes to the extreme in the case of Serbia, whose 2019 National Security Strategy labels "strategic" the need to further cooperation with China, Russia, and the US.
In the case of Serbia, which declared military neutrality in 2007, cooperation with China is one of the four main foreign policy pillars, alongside the EU, the US, and Russia. Serbia increasingly relies on China in its attempts to maintain an upper hand on the Kosovo issue and in recent years their cooperation intensified to the point that Serbia has become China's strategic hub in the Balkans. It is also the only country in the region that has implemented joined police drills with Chinese security forces and considered joint military exercises.
In an attempt not only to acquire new weaponry, but also facilitate technology transfer in order to strengthen the development of its own drone program, in June 2020, Serbia acquired six Chinese CH-92A drones, equipped with FT-8C missiles. Three years later, Belgrade decided to upgrade its unmanned aerial vehicles by purchasing the newer CH-95 model from Beijing. The latest acquisition comes on top of the procurement of the FK-3 surface-to-air missile system, an equivalent to Russia's S-300 or the US Patriot system. In addition to procurements, Serbia has been receiving on a regular basis Chinese donations of military equipment, amounting to over €12 million in total.
While the US is arguably the biggest partner for Bosnia and Herzegovina in the area of security and defense, and there is awareness that cooperation with China in this area is incompatible with the country's NATO bid, the country has also been a recipient of Chinese military donations in 2015, 2021 and 2023.
While North Macedonia has also received Chinese military donations in the past, over the past years, it has developed heightened awareness about the associated risks and strived to direct China's aid in non-sensitive sectors. Nevertheless, the COVID-19 pandemic showcased the country's dependence on China and made it increasingly difficult to maintain the fine distinction between sectors of cooperation. A case in point is China's vaccine donation which was a part of the People's Liberation Army donation for North Macedonia and paved the way for a visit of China's Defense Minister to Skopje in March 2021, the most high-level Chinese delegation in recent years.
Albania has also become increasingly wary of China's presence in critical infrastructure. One of the biggest Chinese investments in the country, Everbright's acquisition of Tirana International Airport in 2016, was sold to an Albanian conglomerate with strong ties to the government only four years later, despite the fact that the concession was valid until 2027. Interestingly, in January 2022 NATO took over the reconstruction of the Kucova airbase, a relic from Albania's communist era located 85km from Tirana, which would serve as a refueling and ammunition center of the Alliance. The Albanian government also excluded China from its port development projects, while at the same time, negotiating the establishment of a NATO naval base near Vlore and offering the Alliance to use its to-be-newly built commercial port of Porto Romano in Durres.
Security Beyond the Narrow Military Definition
In terms of Chinese presence in key sectors, three Western Balkan countries – Albania, North Macedonia and Kosovo have signed up to the US-led Clean Network Initiative which aimed to prevent "untrusted vendors", namely Chinese companies such as Huawei, from deploying 5G technology. Serbia agreed in principle by signing the Washington Agreement on economic normalization with Kosovo which included a clause on (China's] exclusion from the 5G market, but ever since, it has postponed the 5G rollout.
Montenegro has maintained an ambiguous position: not subscribing to the US-led initiative, but not opting for Chinese vendors either. This could be partly ascribed to the fact that in recent years Montenegro was trying to reprogram and refinance a Chinese loan to build a highway, which indebted Montenegro to China in the amount of over one-third of its annual budget.
Other countries, such as Serbia, North Macedonia, and Bosnia and Herzegovina have also been eager to take up Chinese loans, although the contracts stipulate that China has the right to unilaterally terminate the loans and ask for immediate repayment for political or diplomatic reasons, providing China with potential leverage over these countries' independent foreign and security policies.
Moreover, China has been an important economic and commercial partner for all the Western Balkan countries, including in areas that have lately become contentious. In the context of energy, in Albania, the Chinese GeoJade has a concession over the largest onshore oilfields in Europe. Also, through direct investments, China has been exploiting Albanian and Serbian reserves of copper, a strategically important raw material given its widespread use in the electronic industry, satiating in part China's rising needs.
For NATO, the long-term challenge ahead will be to continue the integration process of the Western Balkan countries, even in the face of geopolitical disturbances. Yet, as any breakthrough in the accession process of the remaining three countries remains distant, China still has a lot of space left to maintain its foothold in the region. At the same time, economic and technological dependencies on China are creating new difficult choices. The key task for NATO will thus be to provide guidance to the Western Balkan countries on how to manage cooperation with China in a way that it will not represent a security risk for the region and NATO more broadly, and will ensure domestic resilience.
Written by
Ana Krstinovska is a CHOICE Research Fellow and the President of the North Macedonian think tank and consultancy ESTIMA. Previously, she was a Program Manager for the Center for Research and Policy Making - CRPM in Skopje, as well as a State Secretary for European Affairs and Advisor for International Cooperation/First Secretary in the Permanent Mission to the EU within the Government of the Republic of North Macedonia.