China's Disinformation Campaigns in the Nordic Countries: Lessons from Central Europe
October 2, 2020 | 2:00 pm

-

3:30 pm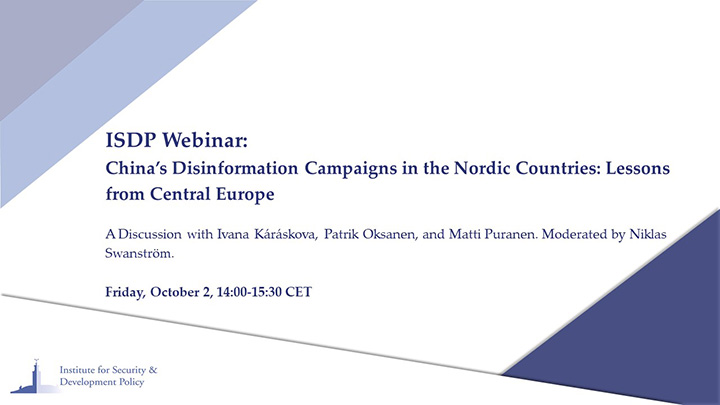 Following the Covid-19 outbreak, China pursued wide-ranging disinformation campaigns in Europe aimed at shifting the narrative from being depicted as the country of origin for the coronavirus crisis, to a savior in response to the pandemic.
The so-called 'mask diplomacy', later criticized as a poorly masked "charm offensive", utilized social media campaigns to criticize specific countries' poor handling of the pandemic and peddled a good degree of misinformation in pursuit of their desired image.
CHOICE founder Ivana Káráskova will be the main speaker for the webinar, drawing from past research on Chinese information and disinformation campaigns in Central Europe and will seek to offer a roadmap for other nations. She will be joined by Patrik Oksanen, Senior Fellow at the Stockholm Free World Forum, and Matti Puranen, a doctoral candidate at the University of Jyväskylä.
The discussion will be followed by an audience Q&A and the event will be moderated by Dr. Niklas Swanström, ISDP's Executive Director.
Calendar powered by The Events Calendar